8th February 2018
Finding the Perfect Baba Blend
Here at Baba HQ, coffee is adored. We always have a cafetiere being passed round, mugs at the ready and our beloved coffee grinder on the go! When the beans do run out (god forbid), staff often resort to nipping to the local cafe, as it is so sorely missed. As well as the sippable coffee, we also love coffee as an ingredient, and there's nothing quite like the classic Coffee and Walnut cake. Therefore, Chris who is entirely coffee mad, has included a scrumptious recipe for you to make in the comfort of your own home.  
Besides the Baba team's deep love for the beans, we also regularly serve Yorkshire tea when we're catering for weddings and special events. While we find Yorkshire tea is irreplaceable and a firm favourite, when it came to coffee, we had yet to discover the go-to bean. 
Baba Ganoush and The York Coffee Empourium
So, after exploring the business park surrounding Baba HQ in York, we found the hidden gem that is York Coffee Emporium. They are a wonderful company based just around the corner from us, an artisan roastery that provides many caffeine lovers alike with ethically sourced beans from all around the world.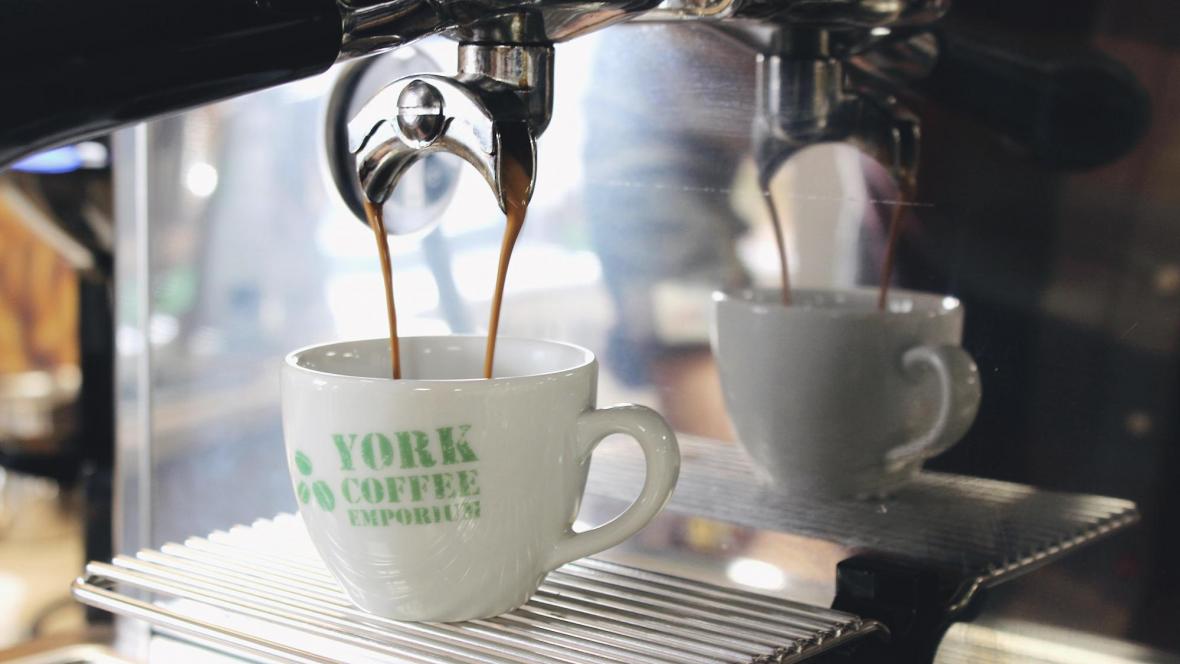 They very kindly invited us for a coffee tasting so that the Baba team could taste our way to finding our very own Baba Blend. One of our chefs, Ryan,  even came in specially from his annual leave, as he refused to miss out on the tour of the fascinating roastery and tasting lots of delicious coffee.  
On the day the lovely Lauren, accommodated us all brilliantly and took us on our coffee journey!
First off we tried the 'Foss' espresso blend, which was the perfect starter, although not suitable for our cafeters, it had plenty of depth, without being overpowering, it was an ideal middle ground coffee.
The second coffee tasted,'Honeybush Blend' was light and has a taste of citrus which was unique to any coffee any of us had tried before, its unusual and complex flavour attracted us to it. We quickly decided we would deffinitley two different blends(too much lovely coffee to choose from), one lighter and the other perhaps a bit stronger, to give customers a choice.
Lastly, all slightly hyper from the coffee, we tried 'Mocha Java' which we tasted and fell in love. This rich, and dark blend was exactly what we we hoping for, and we knew we had found our perfect Baba Blend!
Chris's Coffee and Walnut Cake- Baba Tasted and Baba Approved
Inspired by our recent coffee adventures, and our coffee obsession, we thought it was only appropriate to include this timeless recipe, and we hope to include our personal favourite recipes and foodie tips to try at home.
Ingredients-
Sponge 
4 Large Eggs 
250g  Self Raising Flour 
250g Caster Sugar 
250g Butter (softened) 
2 shots of Mocha Java/favoured coffee (cold)
50g Walnuts (roughly chopped) 
Butter Icing
250g Butter (softened)
550g Icing Sugar (sifted)
1 shot of coffee 
20g Walnuts (roughly chopped) 
1 tsp. Vanilla Extract 
Method
Firstly, lets bake the sponge:
Preheat Oven to 160'c
Grease and line 2x10" cake tins 
Beat together butter and sugar, until light and fluffy 
Beat in one egg at a time, adding a little flour to bring together if required. 
Now fold in coffee and walnuts, then separate between your two cake tins, and tapping down until smooth. 
Bake for 20 minutes- A great way to tell if the sponge is baked through thoroughly is by inserting a skewer to the top of the sponge, when pulling out the skewer, if it comes out clean the sponge is cooked
The icing on the cake!:
Using a large mixing bowl, add all the ingredients, and briskly whisk together until light and creamy. 
Now for the exciting part, remove your yummy sponges from the oven carefully, and let it cool on a wire rack. 
Once the sponge is fully cooled, pipe or spread your butter icing on top of your two sponge cakes, and sandwich them together. 
Now, spinkle with walnut pieces for the finishing touch. 
Tadaaa! You now have your very own Delicious Baba Blend Cake! 
 Send us your lovely baking pictures, we would love see them: rebecca@babaganoushdining.com