7th November 2017
A Year in the Life of Baba Ganoush
2017, in a few words
Baba HQ
This year has certainly been a period of growth and development, and Unit 17, also known as Baba HQ has certainly reflected that. It was lovingly transformed from a car garage into the development kitchen we love to work in today.
From Chef Matthew's pop of pink to the addition of Harriet Wood's wall art, the unit has certainly become unique, and an area we are proud to host our various events, appointments and tastings.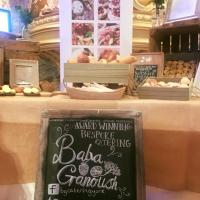 Events, Events, Events
The Baba office calendar rarely sees a break, with a whole host of exciting catering occasions to keep us on our toes. To give an oversight of our jam packed year so far, we have had the honour of catering 34 Weddings, 12 Corporate Events and 22 Family Celebrations.
 In addition to catering events we have also been involved in a number of fantastic wedding fairs recently, where we love to meet new couples planning their weddings, as well as seeing our favourite venues, suppliers and friends attending. We would recommend wedding fairs to soon-to-be wed duos,The Wedding Affair, it's fairs are so welcoming and friendly and provide excellent ideas and inspiration for planning your perfect day.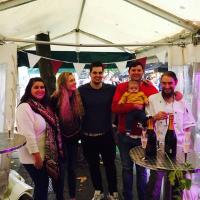 The Baba Team  
Our two new additions to the kitchen team, Chris and Ryan have an abundance of experience in the catering and dining industry, bringing a wealth of fresh new ideas and allowing us to further evolve our menus. The whole Baba catering and events teams really go the extra mile to ensure that every event runs smoothly and customers are left feeling well fed and with a lasting memory of their special event.
It's been a pleasure to work with our local suppliers and with other friends of Baba, in addition to some new exciting venues this year.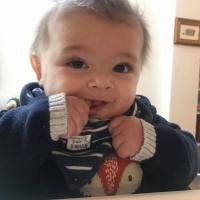 And Along Came Ralph
Owner Matthew always said, Baba Ganoush was his baby, but when baby Ralph entered the world during peak wedding season in May this year, he gave Baba a run for its money.
He has fast become a cherished and loved member of the team, making a few key appearances at events this year, it won't be long before he dons his very own pair of chef whites.
Thank You!
As if this year wasn't crazy enough, with the new unit, new baby and new concept. We were delighted to be nominated for the North of England Wedding Awards and win caterers of the year 2017. We were also over the moon to be finalists in the Wedding Industry Awards, again for caterer of the year, narrowly missing out on the top spot to some excellent competition.
Roll on 2018!